The Xiaomi Mi Note 10 Lite attracted a lot of interest in last week's poll – the sentiment is positive, though some wish the price was lower. As it stands, it's quite close to the vanilla Mi Note 10 and some people are willing to pay extra to get not one but two telephoto cameras.
More than half of voters are interested in the Lite model, though most of them will wait for a promotional price before pulling the trigger. Only 18% of voters think that the recently-discounted Mi Note 10 is a better buy. Whether you go with the Note 10 or Note 10 Lite, it's still a win for Xiaomi, of course.
The Redmi Note 9 Pro (9 Pro Max in India) once again proved that it is much more desirable than its sibling, the Redmi Note 9 (9 Pro in India). The Pro model was chosen by 37% of voters in the second poll, though the issue of pricing came up again. At €250, it is a good deal compared to the €350 Mi Note 10 Lite, but a third of voters think those €100 more are well worth it for the extra features you get.
As for the non-Pro model, it is pretty clear that interest in that one is quite low. In fact, interest is even lower than it was during the first poll.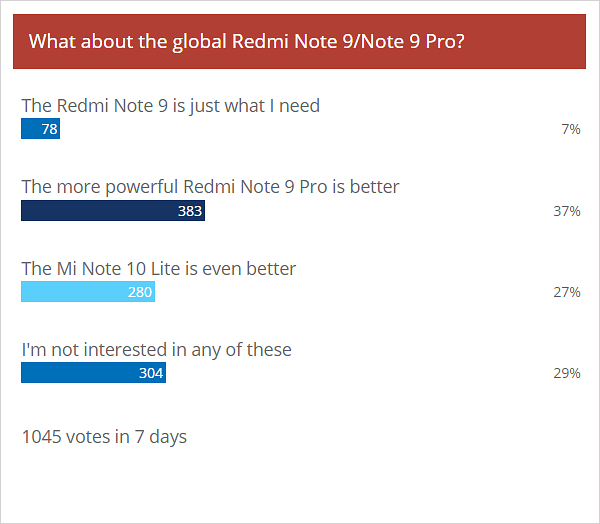 Anyway, the choice between Xiaomi's various models will become even tougher if the Mi 10 Youth 5G goes global as rumor has it that it will be called Mi 10 Lite Zoom. This one promises to deliver a periscope lens with 5x zoom at around the €400 mark (the two Mi Note 10 models need hybrid zoom tech to go up to 5x).